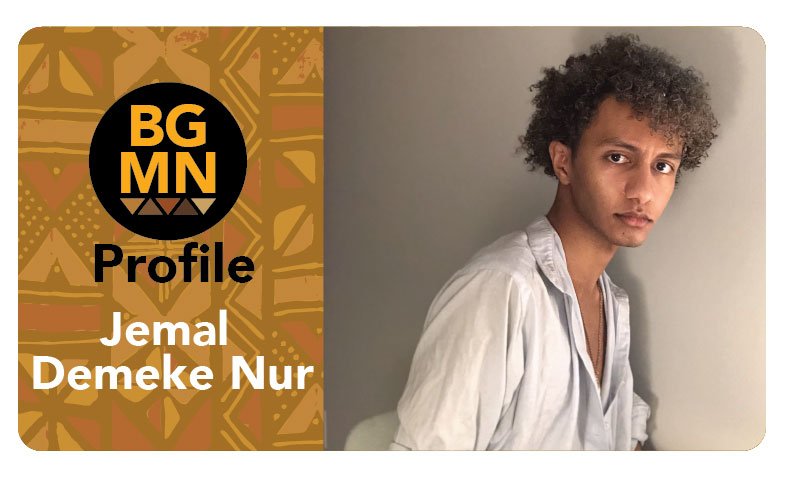 Jemal Demeke
Jemal Demeke Nur is a research coordinator at the High-Impact Field-Based Interventions (HiFi) lab in the MAP Centre for Urban Health Solutions at St. Michael's Hospital. His work addresses health disparities and health inequity in the African, Caribbean, and Black communities and he has a specific interest in the response to HIV and COVID-19. He aspires to bring this balance of healthcare and social justice to the medical field as a physician-scientist one day.
Personally, he loves being active physically and socially (pre-pandemic, of course) and prides himself on his network of supporting friends, family, and loving husband. His outgoing personality may be silenced during the pandemic, but he continues to find ways to have fun at home with his own mix of hip-hop, dancehall, and afro-beats blasted in his ears.

What's your favourite thing to do right now?
This pandemic has really provided me with the time to learn. I will definitely be coming out of this pandemic as a person with a lot of specific knowledge in irrelevant fields. Some examples are the Islamic Golden Age, the anthropology of human tool making, and political science and its intersections with cultural development. Basically, I have been spending every 2 weeks on a new topic and dedicate that time to learn enough that I could have a conversation about it. The goal of this is to become more well-rounded.
How do you manage COVID related stress/anxiety?
I am someone that needs to live near a forest or park with many trees because I really de-stress by taking the time to immerse myself in nature. I practice mindfulness by listening to all the sounds and taking in all the movements of the plants. It's been an adjustment moving to Toronto from a place where my backyard led to massive forests, but I try to use the few parks that I have near to continue this practice anyway.
How has your upbringing influenced you as an adult?
I have become a person who always questions things and is never satisfied with an answer. I explain this with the fact that I always had to balance different cultures and norms. My mom is Muslim, and my father is Orthodox Christian; while I spent all my time with my mom as I got older, I spent many years attending both church and the mosque. It was a lot for my young mind to process that there are different beliefs and I had to subscribe to different practices. After I turned 10, my family moved from a majorly Black neighborhood (Lawrence Heights) in Toronto to Guelph which is predominately White. Because of this, I have very conscious memories of experiencing racism all-of-a-sudden. In the first half-year of being in Guelph, my family of 6 had to live in a one-bedroom motel as my mom worked hard to find housing for us. I would see the other kids get dropped off at their nice houses from the school bus, but they saw me get dropped off at the motel. This is just another moment when I really started to question where I belonged. This is also when I had to really start questioning how to balance being a second-gen Ethiopian and conforming with all the other Canadian kids. It wasn't until I was in university when I acknowledged my queerness, and the coming-out journey was definitely hard to navigate when all my new Black peers were straight and all the queer people on campus were White. In the end, I learned to balance my queer, Muslim, Black, and African identities with each other and the heterosexist, Canadian White world that I lived in.
I learned to affirm myself in my own identities and to never just accept any dominant belief. There's always someone being marginalized, and I am very conscious of that when I say, post, believe, or think anything.
What led you to your current (career, art, activism)?
I was always interested in social justice and science. I actually recently found a post in a forum from when I was 12 years old arguing about British Imperialism, which should show how nerdy I was. I also had my mom buy encyclopedias and textbooks for me as a child because I loved to learn everything, especially science and history. I say this to show that I really have not grown up. I still love activism and I still love science.
When I was in university, a lot of the other premed students were focused on only joining extracurriculars that would benefit a medical school application. Instead, I decided that I would only join what I was interested in. I was lucky to be able to be part of the Black Students' Association, our Diversity and Human Rights Centre, and other groups that focused on student advocacy and bringing awareness to social issues. I had no idea that this work would be foundational to my work on health inequity for Black communities – it just honestly worked out.
If interested in a BGMN Committee, which one would you like to be a part of and why?
Sexual health & pleasure would be interesting as it intersects with my work. I am already involved in some HIV prevention work for Black same-gender loving men and would be happy to provide my own expertise as well as learn from others on how to advance the field.