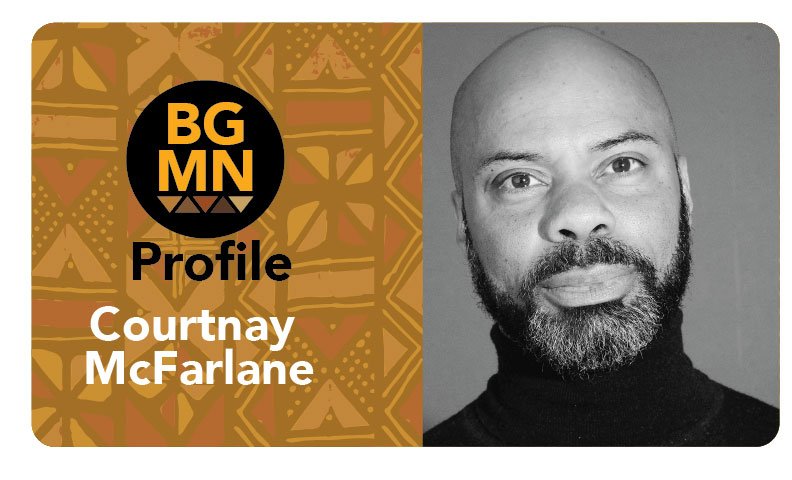 Courtnay McFarlane is a Jamaican-born visual artist, poet and spoken word performer whose work has been published in several African Canadian and Queer anthologies including: Fiery Spirits, and Voices: Writers of African Canadian Descent, Word-up, and Plush. He co-edited, along with Douglas Stewart, Debbie Douglas, and Makeda Silvera, the Sister Vision Press publication Ma-Ka Diasporic Juks: Contemporary Writing by Queers of African Descent. His performance poetry was recently featured in Phillip Pike's documentary "Our Dance of Revolution."
Over the last few decades, he has been an active volunteer in Black and LGBTQ+ community organizations such as the Black Coalition for AIDS Prevention, and Inside Out. Courtnay was a founding member of AYA, a '90s Toronto-based group for Black queer men, and Blackness Yes!, the organizing committee for the Blockorama event at Pride. He recently curated Legacies in Motion: Black Queer Toronto Archival Project that unearthed and celebrated the political and cultural activism of Black LGBTQ communities in Toronto in the 1980s and 1990s. Legacies in Motion was exhibited at BAND Gallery and at the ArQuives as part of the 2019 Myseum Intersections Festival.

In his other life, he works in community health, most recently as the Interim Director, Health Promotion and Community Engagement at Parkdale Queen West Community Health Centre.  Much of his work in the sector has focussed on the provision of diverse programs and services for marginalized children, youth, and adults to ensure access, build individual client capacity and create opportunities for making positive change in their lives and communities.
What's your favourite thing to do right now?

Making lists
Making lists
Provides a sense of order/control
A notion that one is thinking forward/planning
Even if it is illusory
I am an inveterate maker of lists:
Barely legible work task lists scrawled in lined notebooks/on loose white A4 copy paper
Or typed and saved on various desktops
Grocery lists in my phone: Granny Smith apples, Greek yoghurt, Kingfish steaks, yellow yam…
Domestic task lists posted on the refrigerator
Lists of books to read, music to download, places to go
TTDs: things to do
And alas, lists of the lists I make
Though ultimately the true joy of list making
Is the act of crossing off
Putting a line through, or placing a check mark/tick
Beside something achieved/received
Imagined/accomplished
How are you staying creative?

By completing this profile questionnaire from BGMN
Who is your favourite streaming DJ on FB or Instagram live or what's on your playlist?
IG's DJ @d-nice
Original Club Quarantine
Catching sets posted – after the fact
Though sometimes caught live – if I am lucky
And happen on a truly inspired late night/early morning groove
Provoking the ascension of thousands of digital hearts
Flowing ever upwards
Or chains of dancing emojis and virtual flags
He is verse – musically speaking – with old school leanings
Adept at mixing genres, moods, and decades:
The Manhattans, Ro James, Jodeci, Angela Winbush
Make a cocktail with "Insanity" Lalah Hathaway and Gregory Porter's duet
I am a sucker for his celebrity shoutout: Oprah, Michelle O, Mariah, Grace
Even Kathy Sledge, Melba Moore, Shirley Jones of the Jones Girls
But Donnie Wahlberg?
Derrick is easy on the eyes and fond of hats
He of the big head
Has kept me company through Saturday afternoons vacuuming
Or solo Sunday mornings with a soulful Stevie set
Wonder/ful!
My Dj dotes on his young daughter
Who often pops up on screen
To whisper something secret in his ear/sing along with Beyonce
Or lean in for a squeeze
He is the ultimate virtual
Musical Black daddy
Whose oft-repeated phrase while spinning is
Let it breathe
Who are some of your influential authors or books to read?

In no particular order – list of books recently purchased, read, or re-read:
Augustown – Kei Miller
The Nickel Boys – Colson Whitehead
Fired Up! Ready to Go!: Finding Beauty, Demanding Equity: An African American Life In Art. The Collections of Peggy Cooper Cafritz – Peggy Cooper Cafritz
The New Black Vanguard: Photography between Art and Fashion – Antwaun Sargent
Robert Stilin: Interiors – Robert Stilin
Don't Call Us Dead – Danez Smith
The Tradition – Jericho Brown
Theory – Dionne Brand
BlackLife: Post BLM and the Struggle for Freedom – Rinaldo Walcott and Idil Abdillahi
Ceremonies: Prose and Poetry – Essex Hemphill
Sister Outsider: Essays and Speeches – Audre Lorde
Just Above My Head: James Baldwin
What are your favourite self-care activities right now?
Yoga and body weight workouts on the NTC (Nike Training Club) app
Biweekly visits to my therapist
Cooking something in the evening that I have been craving all day
Podcasts in lieu of sleep
Podcasts to lull me to sleep
Afternoon naps
Devouring design and decorating books and shelter magazine
De-cluttering and offloading stuff on Kijiji
Reimagining interiors
Looking at art
Talking about art
Collecting art
Patios with friends
Weekly visits to my barber
COVID-19 canoodling – virtual or otherwise
Family time
Afternoon naps
If interested in a BGMN Committee, which one would you like to be a part of and why?



Culture & knowledge production – as I was part of the original working group at the consultation last year. It is also an area of interest and professional focus.
Sexual health & pleasure
Substance Use
Mentoring