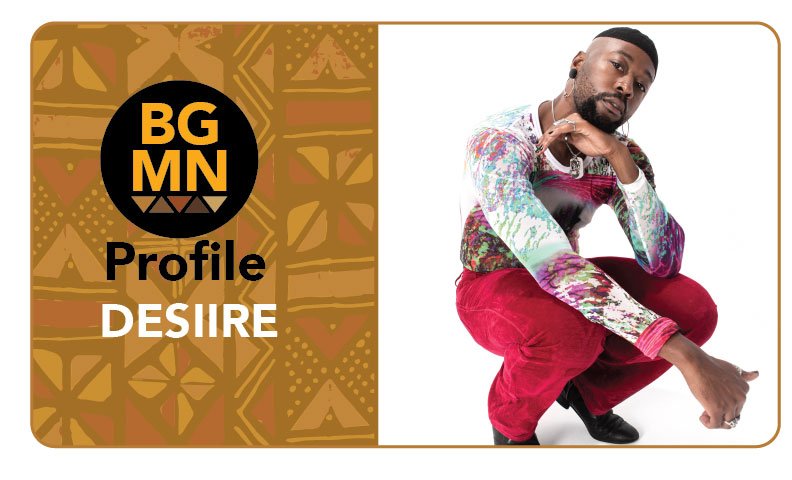 DESIIRE is a Toronto-based artist who was born in the Democratic Republic of Congo. He delivers a unique blend of R&B, Afro, Electronic & Hip-Hop to create music that is filled with hypnotic instrumentals and moody simplicity. Influenced by soul contemporaries such as Erykah Badu, D'Angelo, Lauryn Hill, Maxwell and pioneer African artists such as Papa Wemba, Koffi Olomide, Youssou Ndour & Femi Kuti, DESIIRE has become known for his gospel-inspired vocals, Afro-infused rap staccato cadences, and engaging storytelling songwriting.
https://www.desiirenow.com/
What's your favourite thing to do right now?
With everything happening outside, my favourite to do right now is staying in and making music. When I am not doing that, I am binging on the latest tv show on Netflix.
How are you staying creative?
I try to stay inspired as much as I can. I am a huge fan of Tumblr, so i spend a lot of time surfing inspirational pages, from music to fashion, art and design. As far as creation, everything is done through the web now so I've been experimenting with Zoom studio recording sessions with my artist friends, which has been super interesting and a big learning experience.
How do you manage COVID-related stress/anxiety?
Trying my best to take it easy and realize the entire world is doing the same thing. It has been an interesting time for all of us, so i think realizing that and coming to terms with it helps manage the stress that comes with everything that is going on.
Who is your favourite streaming DJ on FB or Instagram live or what's on your playlist?
I love watching my artist friends and their live streams. Singer M.I.Blue does an incredible live set every now and then that I love tuning into. TiKA has a wonderful Friday night stream called Tika Circle that features incredible R&B artists that is always a favourite. And lately, it's been the Versuz Instagram battle with R&B and Hip-Hop legends going head-to-head.
Who are some of your influential authors or books to read?
I am African, so i have been diving deep into old and new African literature. From Chimamanda Ngozi Adichie to Chinua Achebe and Aminatta Forna. There's nothing better than being able to connect with African stories through the words of writers that have lived and experienced the same things you did while growing up.
What are your favourite self-care activities right now?
My favourite self-care activity right now is rest. I am finally realizing the benefits and the importance of taking time out for yourself to do absolutely nothing! With so much happening out there right now, logging off social media and letting my mind rest and be at peace is the best thing to do.
How has your upbringing influenced you as an adult?
My upbringing has taught me the importance of working hard and gratitude. Growing up as an immigrant in a single-parent household, you learn to be grateful for every opportunity that comes your way, to not take blessings for granted, and to always put your best foot forward no matter the situation or outcome.
Who have been the strongest influences in your life?
It would definitely have to be my mother. She raised my brothers and sisters by herself and still managed to go back to school and earn her degree in childhood education. She has been the perfect example of never giving up on yourself and your dreams.
How have you been maintaining your physical health?
I have a mini gym set up in my living room, so every morning I do a 30-minute workout to start my day.
What led you to your current (career, art, activism)?
My love for creating. Art, music, design, fashion have always been favourites of mine and getting the opportunity to be involved in the creation of all of these simultaneously has led me to want to continue to learn about them separately and collectively.
How would friends and acquaintances describe you?
You'd have to ask them! I like to think I am a bit of everything. Depends on the day and the situation.
What are you most proud of accomplishing?
Proud of continuing to stick to my goals and pushing to carve out a creative life for myself.
What would you do differently if you had a chance?
I believe everything happens for a reason so I wouldn't change a thing about my life so far.
Describe a scene of your vision for the future.
The book is still being written, so I like to leave the pages blank and let life write itself!
If interested in a BGMN Committee, which one would you like to be a part of and why?
Culture & knowledge production