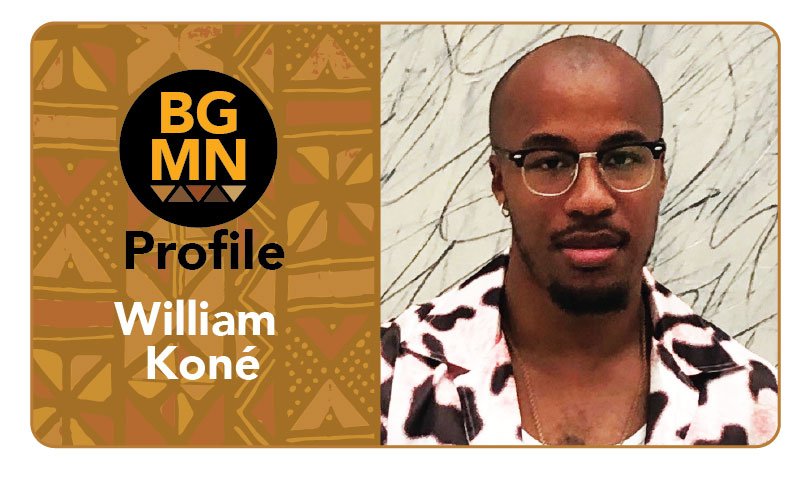 William Koné
William Koné is a MA graduate in psychotherapy. He completed his degree at Saint Paul University and his BA in psychology at Carleton University. His studies initially focused on autonomy's impact on romantic success. Later, he highlighted relationship satisfaction among gay men. William intends to practice individual and couples therapy to specialize in identity and interpersonal conflict, preferably among the Black and/or LGBTQ+ population.
With MAX Ottawa, he co-facilitated discussions on anxiety and body image among guys into guys. Currently, he co-supervises its peer support program. As an Ottawa native, William is eager to support community projects that celebrate and heighten its Black queer presence in the city. This prompted him to co-found the Cap City Kiki Ballroom Alliance, serving as the sister chapter to the Toronto Kiki Ballroom Alliance.
How do you manage COVID related stress/anxiety?
Its been challenging having to process the amount of loss I endured this year. The alliance had just launched before the pandemic hit, so it hurt me knowing that our plans were shelved. My program underwent shifts so we could all graduate on time, but the journey to the end wasn't satisfying given everything that was going on. Accompanied by the Anti-Black racism unfolding globally, it was a strain to get up and be productive for a while. I was even secluding myself from others because I was emotionally all over the place.
Long story short, I'm still figuring it out. Flagging depressive symptoms as they come up has helped by putting a name to what I'm experiencing. Loved ones have been holding me accountable for specific tasks, allowing me to focus my attention on what I'm interested in. Utilizing the resources that are available for me to vocalize my concerns was beneficial as well. I've always struggled to ask others for things, but the pandemic has made it apparent that many are grounded in the same pain. It's validating to know that I can connect with others that hold genuine regard for me.
Who is your favourite streaming DJ on FB or Instagram live or what's on your playlist?
With current music, the female rappers are giving it. City Girls, Megan Thee Stallion, and Saweetie are necessities. Their unapologetic demeanor accompanied by their dismissal of the male gaze forever reigns supreme to me. My playlists are based on the mood I'm in, so I use a single-word adjective to paint the story I'm creating. Right now, I'm curating one for my birth year 1993 to draw inspiration for writing. Essentials like Jodeci, Queen Latifah, A Tribe Called Quest, Tupac, and Mariah are obviously a part of the vision.
In general, I live for 90s Hip-Hop and R&B. The range and the style of that era remains unmatched, so I try to sprinkle favorites into playlists like Brandy, Janet, Nas, Gang Starr, Wu-Tang, and Foxy Brown. 
How has your upbringing influenced you as an adult? 
Being raised by a single mother was challenging because most expected her to fail. Raising Black boys as a young Black woman was considered detrimental towards our manhood. In the end, it was the biggest blessing I could've asked for. My mom taught me more about manhood by contradicting the stereotypes of what a provider looked like. Her teachings exposed me to the plights women endured, allowing me to embrace femininity as opposed to being threatened by it.
Her resiliency and her authenticity shape the way I operate today. She wasn't hindered by other people's perceptions because she prioritized what mattered to her, which were my siblings and I. There were countless times where I doubted my abilities because social and academic circles centered on white heteronormativity. She was the one to stress the importance of being myself. For that alone I'm grateful. I owe it to her to live my truth because she gave me the care I needed to survive this life.
Describe a scene of your vision for the future.
I want Ottawa to have options. For Black queer people to have the satisfaction in choosing different scenes/opportunities for personal fulfillment, whatever that may be. Many choose to sleep on what the city provides, but to me it's a copout. With the number of driven yet inspiring faces I've encountered here, it's inexcusable. There's so much room for us to thrive and I want our presence to be known, point blank.
As for me, I'm conscientious of legacy. I'm eager to leave something behind that not only reflects my passions but extends beyond my intentions to better my community. I want a practice that houses Black professionals in various sectors of mental health, so people understand that support was built for them to turn to. That would be one of my biggest accomplishments.