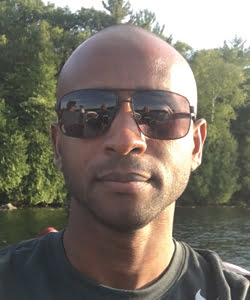 Diavin Miller-
Steering committee
coordinator
Diavin has extensive volunteer experience in the not for profit sector, most notably with StepStones for Youth as a volunteer mentor since 2011 and a board member since 2018. With StepStones, he chairs the communications committee and has worked to develop inter-agency partnerships to deliver broader and more impactful support to youth in foster care in the GTA.
He has over 25 years of senior level corporate experience in the areas of banking, IT management, project management, and sales operations. He has led organizations of over 600 people. He also held the role of co-chair for the Rogers LGBTQ+ employee resource group for 2016 and 2017. He is currently working with Equifax Canada as Director, Project Delivery.
Diavin holds an Honours BA with a specialist in Management from the University of Toronto and various diplomas and certifications in the areas of project management, digital marketing, systems analysis and design, and process improvement.

Robert Ball-
Steering committee and
Events
Born in Toronto Canada, a graduate of "Fame-like" Claude Watson Arts Program Robert Ball, A multi-faceted singer has traveled to and performed in over 60 countries as a featured vocalist and a headliner with Royal Caribbean International.
Robert has sung background for artists such as Kim Burrell, been a part of various Musical Theater readings and workshops working with Tony Award Winner Lillias White & Grammy Nominee Carol Woods. Opening up for artists Mary Mary, Cece Winans, Maestro, Keshia Chante, Shawn Desmond, Gordon Chambers, Big Freda among others. As a session singer Robert has worked with producers, Saukrates, Robbie Patterson, Ray Angry and Donald Lawrence, appeared on recordings for/with Charles Hamilton, J. Ivy, Montell Jordon, The Clark Sisters naming a few. His original music has appeared in 'Degrassi the Next Generation' and has aired on radio stations in Europe, Canada & the United States..
As an Actor and Model he has appeared in various TV commercials and music videos; Cineplex Holiday, "Picture" by Shaggy also his own video for his single "Breathe". Including campaigns for TD Canada Trust, Montpellier Water and PC (Presidents Choice),…
Robert's other work experience includes time with Toronto Parks and Recreation, Yonge Street Mission & YMCA "PlayON" as a youth counselor, arts facilitator and after school program lead.
In 2007 he stepped into the role of Artistic Director and Outreach Coordinator of "Revelation Performing Arts Centre" a nonprofit in Brooklyn, NY. Recently he has been working as a mentor and teaching artist with NIA Centre for the arts and continues his long-standing work as a freelance vocal coach.
In 2017 he toured his EP "Need" and single "Breathe" throughout Ontario as well as New York, along the way performing at Brooklyn Pride, DC Pride, London (Ontario) Pride and Jamaica Pride. Also making appearances on TV outlets CTV, CP24, Bold TV, Rogers Nighttime and Daytime on Rogers. Concert series; Casa Loma "Soul in the City", Friday Night Live at the ROM among others.
Robert curated a concert series "Stronger Together" in New York with the premise of featuring Black Gay Recording Artists, supported by MOBI Talks (Mobilizing Our Brothers Initiative) and later performing at their now annual MOBIfest sponsored by NYC Health.
His new single 'River (Into You)' released November 2nd 2019 and is available on all streaming outlets.

Robert Alsberry (he/him)-
Steering committee and
Communications
Robert Alsberry brings a lifetime experience of navigating the world as a Black, queer male. Born and raised in Pittsburgh PA, he worked as a massage therapist and a Registered Nurse, obtaining his BSN from Carlow University. Since moving to Canada in 2016, he's been a part of MAX Ottawa where he currently works as their Communications and Outreach Coordinator. He's most proud of starting and co-facilitating Keeping it 100, an ongoing discussion group for Black guys into guys in the Ottawa area that's been active for 3 years. Robert has been a part of many LGBTQ+, ACB, HIV/AIDS, and/or mental health focus groups, seminars, and symposiums.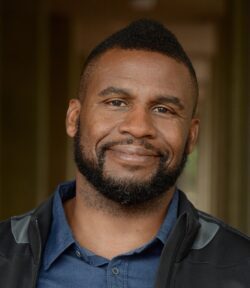 Dr. Lance T. McCready-
Steering committee and Mentoring

Lance T. McCready, Ph.D. is Associate Professor of Urban Education in the department of Leadership, Higher and Adult Education (LHAE) at the Ontario Institute for Studies in Education, University of Toronto (OISE/UT). He was born in Brooklyn, NY, has three brothers who currently live in the United States and identifies as African American and gay/queer. His parents, Joyce Jacobs-El and William Floyd McCready are deceased. He uses he/him, they/them pronouns. Dr. McCready obtained his Ph.D. in Social and Cultural Studies in Education (Designated Emphasis in Women, Gender, and Sexuality Studies) in 2002 from the University of California, Berkeley. He is an interdisciplinary social scientist whose research, writing, and service focus broadly on the education, health, and well-being of Black children, youth, and families with a strong interest in experiences of Black queer youth and young adults, men, and boys. He is the author of Making Space for Diverse Masculinities, published in 2010 by Peter Lang and Principal Investigator for several research projects including Educational Trajectories of Black Male Youth, and African, Caribbean, Black Family Group Conferencing Project, and the Black Student University Access Network. He also serves as Co-Investigator for WeSpeak: Heterosexual Black men and HIV, and Project #Queery, a study on the online activities of queer youth in Canada and the US. He is a Lead Researcher for the Black Child and Youth Studies Network in Ontario, and at Black Coalition for AIDS Prevention served as an evaluator of the Many Men, Many Voices, HIV education intervention for young Black MSM, and a research consultant for Picasso's Black Canvas, a verbatim theatre piece about the lives of young Black gay men in Toronto.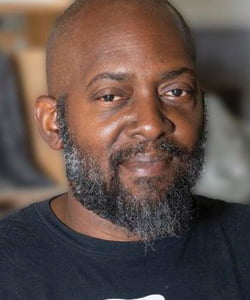 Frantz Brent-Harris-
Graphic Design & Website Development
nothing should be here
nothing should be here
nothing should be here
nothing should be here
nothing should be here
nothing should be here

Jermane Hall
Communications/Events/Social Media Resource
Jermane hall is a Jamaican ex-pat who resettled in Toronto as a refugee. His Black, Queer, Immigrant identities are are crucial components of his subjectivity and orientation as a team member of BGMN Ontario. Jermane is passionate about social justice and equity which has propelled him into a life of service. Jermane also volunteers at several not-for-profits providing strategic guidance towards ensuring decolonial, anti-racist and accessible organizational policies and procedures. He is driven by his love for marginalized communities and has dedicated his life to fighting for their dignity and rights.