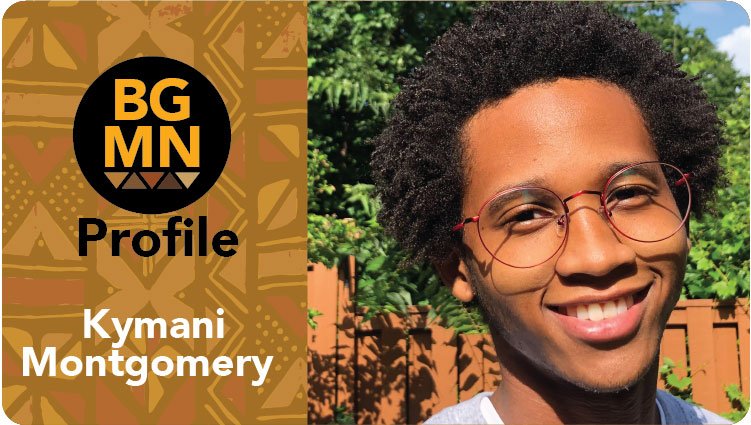 Kymani Montgomery (He/Him)
Kymani Montgomery (he/him) is the Programs Manager for the Ten Oaks Project. In this role, he focuses on creating and expanding spaces for 2SLGBTQ+ children and youth primarily through recreation. Before his current role, he spent years working with infants, children, and youth in various capacities. Born to an African American mother and a Trinidadian father, Kymani spent years growing up in the US, Canada, Switzerland, and Sierra Leone. He began exploring his queerness while in Montreal during his first year of university and has loved every minute ever since! When he is not working, he likes to listen to podcasts, watch too much tv, sing while walking around the house, and create baking recipes (unsuccessfully). You can follow him on IG @kymanimont
What do you love most about being a Black Gay individual?
I love the freedom I feel I have. I know that there is a lot of privilege in this statement because I know that so many Black queer folks are not given space or access to feel freedom in their sexual orientation or gender expression. But I feel so free to do whatever I want. I can dress how I want, do my hair how I want, do my nails how I want, walk how I want. Living at the intersection of being queer and Black, I know that they are so many people who will never accept or love me so I might as well live how I want to. I hope I can help other Black queer folks feel the same freedom I do.
Who is your favourite streaming DJ on FB or Instagram live or what's on your playlist?
My playlists are filled with Nicki, Chloe x Halle, Beyonce, Ari Lennox, Missy Elliott, Kirby, Jazmine Sullivan, Solange, Rihanna, Megan Thee Stallion, Janelle Monáe. Ungodly Hour and Shea Butter Baby have truly gotten me through this Panic at the Disco! I am also a loyal listener to all 90s and 2000s R&B and Hip Hop. Music for me is the ultimate expression. I believe that any emotion you are feeling or trying to explore can be conveyed through music!
How do you manage COVID-related stress/anxiety?
Playing classical piano, going for walks, and Zoom sessions with my friends in Toronto have been a necessity for my mental health during this pandemic!
Who are some of your influential authors or books to read?
I try to read mainly Black female authors. So I am a huge fan of bell hooks, Audre Lorde, and Assata Shakur. hooks' book, We Real Cool: Black Men and Masculinity, spoke to me so deeply because she verbalized so many experiences I have had as a Black man. I also enjoyed and constantly recommend Robin Maynard's book, Policing Black Lives. Robin does an incredible job at contextualizing Black experiences in a Canadian context. I'm trying to read more fiction so if anyone has any recommendations let me know!
How has your upbringing influenced you as an adult?
BGMN committee off Interest:During my upbringing, my family travelled a lot. My mother worked for the foreign services so we moved to a different country every few years. I got to learn a lot about the world and experienced so many different people and environments. But after moving around so much, now I am trying to build a community of support and love in Ottawa. When i was young, I didn't need to invest a lot in relationships because I knew my time in one location was limited. Now, I'm trying to unlearn that.
BGMN Committees:
Culture & knowledge production

I am interested in this committee because I consume a lot of media. From podcasts to movies to tv shows to YouTube videos, to books, I take in a lot of content. I am also interested in learning from others so I think this would be a good committee.

Sexual health & pleasure

I am interested in this committee because, like many people, sexual health and pleasure are major factors in my life. I try to consistently engage in conversations with my partner about what I'm feeling and what I'm not feeling. I also strongly believe queer folks were robbed of getting any sort of sexual education that didn't centre around heterosexual men. I would love to be a part of building a reservoir of knowledge around sexual health and pleasure.

Mentoring

I am a part of a mentorship program through Jaku Konbit here in Ottawa. I'm new to this mentoring thing, but I have worked with children and youth in my adult life so I have unofficially been a mentor for a while.