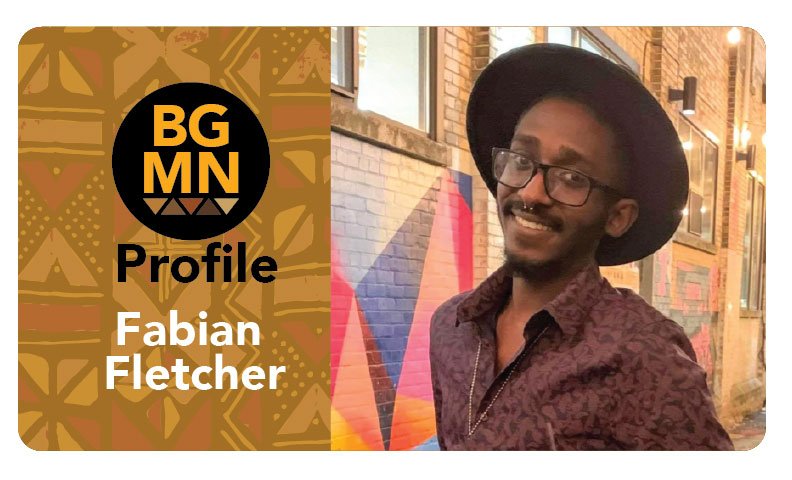 Fabian Fletcher is the Gay Men's Sexual Health worker at the AIDS Committee of Cambridge, Kitchener, Waterloo and Area (ACCKWA). He recently graduated with distinction from the Social Service Worker Program at Conestoga College, and completed his second year placement working in harm reduction and sexual health at ACCKWA. Before moving to Waterloo Region, Fabian volunteered as a peer mentor for a 2SLGBTQ+ youth group, moderated several panels for Peel Region's Gay Straight Alliance (GSA) conferences and served on the Credit Valley Conservation Youth Corps Frontline steering committee.
Fabian brings a passion for anti-Black racism within the sexual health field and advocacy stemming from his experiences as a Black gay man. Fabian is currently working on programming designed to create community and foster connections for Queer, Trans ACB youth, as well as facilitating a peer-based support group, in addition to other services and forms of support, for Gay, Bisexual, Transmen and other Men who have sex with men (GBTMSM) in Waterloo Region.
How has your upbringing influenced you as an adult?
I would say that growing up in a strict Seventh-day Adventist family definitely influenced my upbringing and identity as an adult. There was a lot of internalized hate and shame that I had to unlearn, especially regarding my sexuality. I think that if I did not have such a difficult time processing the negative narratives I heard from my grandmother and other family members, I wouldn't be doing this work. I have them to thank for that. They made me want to better myself and become more compassionate in spite of them. Coming to terms with my sexuality has been an ongoing process, but I believe I've reached a place in which I understand that I am a person worthy of love and acceptance from myself and my chosen family.
Who has been the strongest influence in your life?
The strongest influence in my life is my mom. She has always been able to inspire and instill in me a passion for social justice and equity, and has always been able to make me feel grounded when I get overwhelmed. As an adult, I can see the sacrifices she made to support and provide for my siblings and I, and I can see how hard it has been for her to unlearn the negative behaviours and attitudes that she was exposed to as a child. Growing up, she ensured that my brother and I would be prepared to face a world in which we needed to work twice as hard to prove ourselves, but taught us to love and appreciate our culture and find strength in our community.
What are your favourite self-care activities right now?
I have been going on long drives by myself, using the time to centre my thoughts and ground myself in why I'm doing the work that I do. Being able to experience the scenery and just turn off my brain for a bit really helps me unwind and take care of myself. I also have been getting back into streaming Netflix, and watching medical dramas (Grey's Anatomy). Since it's so overly dramatic, it gives me a chance to disconnect with my stress and bury myself in an episode.
Who is your favourite streaming DJ on FB or Instagram live or what's on your playlist?
My top played artists on Apple Music and Spotify are currently: Nicki, Ari Lennox, 100 Gecs, SZA, Jorja Smith, WizKid, Burna Boy, KAYTRANADA. I've also been listening to this one really great DJ I found on TikTok who makes mixes/mashups with 2000s throwback and current R&B/Hip Hop songs.