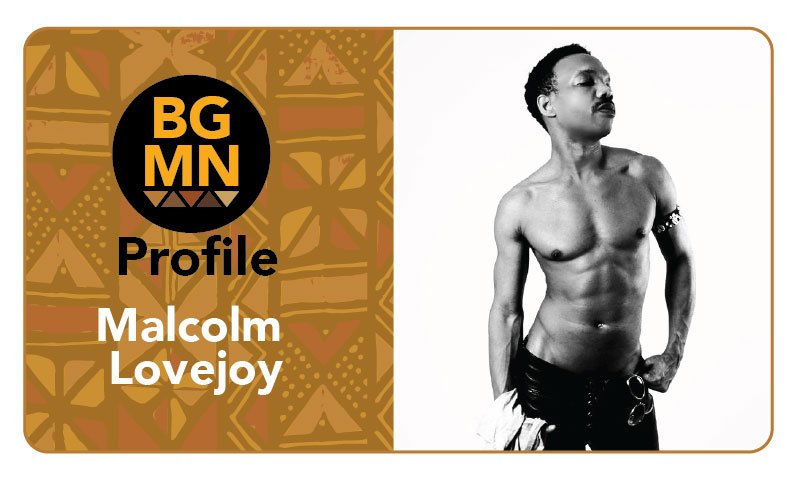 Malcolm Lovejoy
Hello! My name is Adhimu Stewart, but I also am known by the names Malcolm Lovejoy when I'm doing erotic art & video, and Mindbender Supreme, when I'm doing hip hop music and dance. I have a good life in Toronto and I enjoy being creative and passionate about my expression. I'm a Leo/Aries/Virgo and I don't like to deny myself, nor do I like to see other people deny themselves the pleasures and joys available in this life! I am here to make art, love, pictures, music, writing, and any other kind of creative urge I feel like exploring. Living in Toronto has been a wonderful blessing for me, and I want to travel the world and return here whenever I can to keep expanding my mind & soul.
Describe a scene of your vision for the future.
A polyamorous, pansexual, queer-positive village community of lovers, friends, teachers, students, workers, helpers and healers all gathering to share truth, wisdom, fear, pain, struggles, joys, insights, life, dreams, death, and all kinds of wonderful things to understand together. I hold a vision in my heart of living in a city, a country and a place that openly supports all types of healthy philosophies and ideas, and doesn't show hate or fear towards anyone. I want to live in a type of commune where people are free to come and go, love and learn, cook and clean, help and share, and not be alone or expect to live in typical nuclear family structures or basic ideas of monogamy and matrimony. It requires maturity, non-possessiveness, honesty, clarity and self-awareness to do this properly, but I know I'm ready for it. I hope others are too!
What led you to your current (career, art, activism)? 
I was led to my current career in sexuality through my great disappointment in hip hop culture's willingness and (lack of) ability to discuss LGBTQ+ issues and I got infuriated with the culture of rappers, and/or entertainers, in general, that weren't being honest about their sexuality or what was possible in the culture. I decided "I'm going to remove music as a middle man, and just go straight into sex work!" And honestly, it was basically the VERY BEST decision I've ever made in my life. I am so happy to be a sex worker, a porn star, a professional love maker, and an erotic educator; it's a dream that never fails to enlighten or educate my spirit. But it's not easy and there are rough days, but that's how it goes with any job, so I accept the turbulence. I trust in wherever my dreams are going to take me! They have done miracles for me so far, and I've only been doing porn for about 8 years! My heroes have been in the biz for 20 years plus, so I look forward to a big future full of passionate pleasure and love lessons!
Who are some of your influential authors or books to read?
The Autobiography of Malcolm X
Malcolm X: A Life of Reinvention by Manning Marable
Lesbian Sex Secrets for Men by Amy Jo Goddard
The Love Mindset: An Unconventional Guide to Healing and Happiness by Vironika Tugaleva
The Beautiful Ones by Prince
The Wu-Tang Manual by The RZA
Hip-Hop Homophobes by Khalil Amani
Angry Black Girl by Elexus Jionde
The Dark Side of the Light Chasers by Debbie Ford
Misogyny: The World's Oldest Prejudice by Jack Holland
Authors: James Baldwin, bell hooks, Marquis de Sade, Cornel West… the list is endless
How are you staying creative?
Writing rhymes. Drawing. Making love. Masturbating. Running. Exercise. Meditation. Internet jokes. Reading. Zoom calls with friends and family. And cooking food.
Creativity is something I try to work into a few hours of each day of my life. I always want to do more! I slightly started playing piano, and I need more lessons from my lover! But yes, it's a journey and a process. Creativity & artistry is my paradise when sexuality & intimacy isn't.