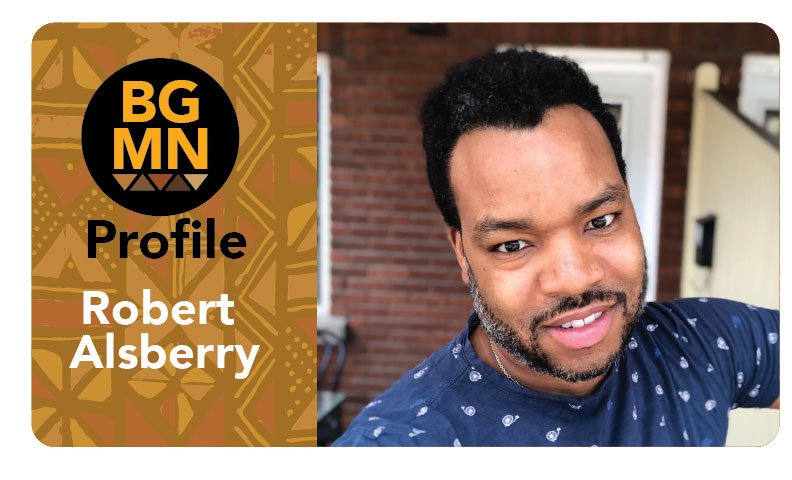 Robert Alsberry (He/Him)
Robert's path to becoming a proud Black gay/queer man has been similar to many of his peers. A family that has grown with love and acceptance over time, organized religion that made it difficult to reconcile faith and sexuality, and the continual work of undoing shame that prevents the necessary self-love and acceptance especially needed for Black gay and queer men. None of those have ever stopped him from finding joy in all areas of life.
Before moving to Ottawa in 2016 from Pittsburgh PA, USA, he worked as a Registered Nurse Case Manager in home care. Shortly after moving to Canada, he found himself engaged in a variety of local and provincial Black, LGBTQ+, and HIV organizations and events. He now works at MAX Ottawa, Ontario's first and only stand alone GBT2Q men's health and wellness organization as their Communications Coordinator. As a MAX volunteer before getting hired, he received a community grant for Keeping it 100, a Black gay men's discussion group. Due to its success, K1 is now in its 3rd year of programming. He loves co-facilitating a dynamic space for Ottawa's Black guys into guys to learn, share, and discuss ideas that are important to us.

Robert's dream job is to blend his life and work experience from nursing, non-profit work, volunteering, and finding joy as Black Queer man into a 2SLGBTQ+ nursing practice. Until then, he'll continue to find joy.
What's your favourite thing to do right now?
My favourite things to do right now have been practicing my viola, Zoom dance parties with my friends, and cooking big Sunday dinners for my partner and friend who's staying with us.
How are you staying creative?
My job requires a lot of creativity which can make conserving energy for personal projects a challenge. I've found working from home has been helpful at achieving a better balance. It's been nice waking up and starting my day with music lessons and workouts. I notice I'm more attentive when I'm doing my professional work later.
How do you manage Covid related stress/anxiety?
Covid has brought up many conversations about grief, loss, and support for me this year. Personally, I've had to deal with the passing of a family member and other family's health issues. Not being able to travel and access the normal supports one would to get through a crisis has been especially difficult for me. I've also had to alter and delay some professional goals.
Fortunately having supportive people, both in person and virtually, AND years of therapy allow me to access an arsenal of coping mechanisms. This includes making to do lists to focus on what I can control and being transparent about my feelings with others. In addition, a good cry and a hearty laugh has been serving me well. Shout out to Netflix!
Who is your favourite streaming DJ on FB or Instagram live or what's your go to playlist?

Music is a 24/7 thing for me. This pandemic has given me time to listen and engage with some artists and albums I've had on my radar. My top 3 picks for the moment are Megan Thee Stallion, Ari Lennox, and Kali Uchis.